Have your say on the future management of our wai
Northland Regional Council has put together draft changes to the freshwater plan for Te Taitokerau. It includes potential new rules that could mean big changes to how land and freshwater is managed in our region – and we want your thoughts on what it means for you.
Ko tātou ko te wai, ko te wai ko tātou – We are the water and the water is us.
The draft Freshwater Plan Change is a blueprint for improving the health of freshwater – rivers, streams, lakes, wetlands and aquifers – in Te Taitokerau Northland.
Big changes are needed to significantly improve freshwater and meet Government policy requirements. There will be many different views – from those that think we're not going far enough to those that don't think much change is needed.
Here's a quick overview of some of the key draft changes we're considering: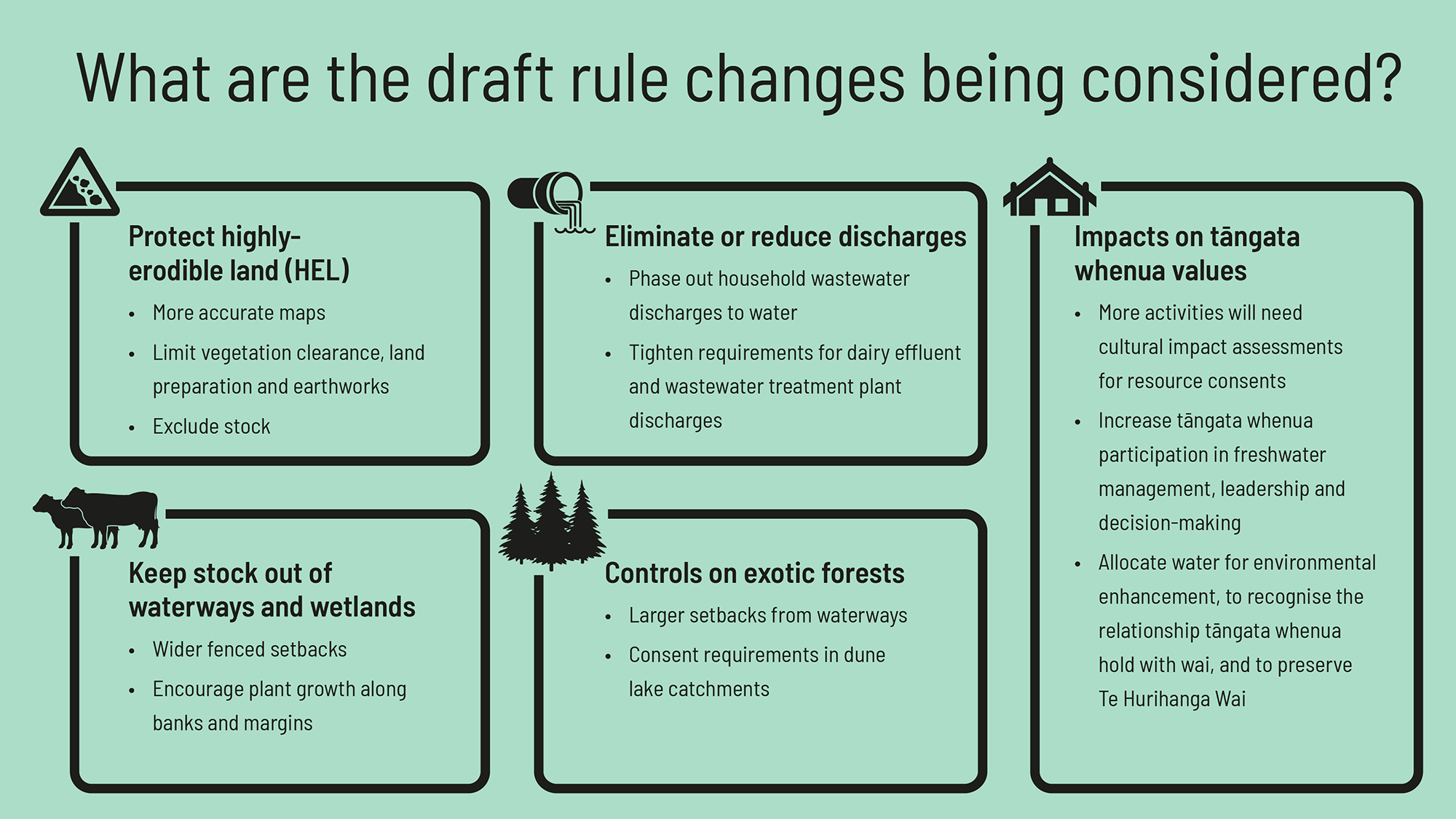 ---
Read more about the changes we are considering
Our pātai (questions)
The decisions we make now will determine the state of freshwater for future generations and the resilience of our communities to the impacts of climate change. The more feedback we get, the better informed our decisions will be.
The two big pātai (questions) we have are:
What do you think of our draft Freshwater Plan Change and draft Action Plan? There's a lot to consider and we welcome feedback on any of it.
What timeframes are feasible to improve freshwater?  The longer the timeframe, the more time for people to make the changes needed – but the longer it will take for the health of freshwater to improve.
Whether you prefer online, print, or kanohi-ki-te-kanohi, there are several ways to tell us what you think of the draft Freshwater Plan Change.
You can share your views in te reo, English or New Zealand sign language (let us know if you might need an interpreter).
If you need assistance with providing feedback, just let us know – our friendly staff will be happy to help.
Feedback closes 4 March 2024.
Submit your feedback online
You can give us your feedback by filling in our online feedback form. You are welcome to fill in as much, or as little, of the form as you like.
You can also email us your feedback to [email protected] Please feel free to download and attach our feedback form to your email or to use any other format that suits you. 
Provide feedback in print or in person
You can download our print-friendly feedback form and post it to us at:
Northland Regional Council
Private Bag 9021
Te Mai, Whangārei 0143
Alternatively, you can pick up or drop off your feedback form, or speak to someone in person, at one of our offices in Whangārei, Dargaville, Kaitaia or Waipapa. For office location details, visit our Contact details page.

Join a drop-in session or online hui
We are holding a series of drop-in sessions and online hui to kōrero about the draft Freshwater Plan and answer your questions.
Rural/general interest online hui
Although anyone is welcome to attend, these online hui will focus on aspects of the draft Freshwater Plan Change that are likely to be of interest to landowners, farmers, and the general public.
22 November 2023
30 November 2023
8 February 2024
Register for the rural/general interest online hui
Tāngata whenua online hui
Although anyone is welcome to attend, these online hui will focus on aspects of the draft Freshwater Plan Change that are likely to be of interest to tāngata whenua.
29 November 2023
1 February 2024
Register for the tāngata whenua online hui
Drop-in sessions
Mangakahia Sports Complex
cnr Kerehunga and Mangakahia Roads, Whangārei
Drop-in anytime between 10am to 12:30pm
7 December 2023
Keep an eye on this page for more drop-in sessions coming.
Talk to us at summer community events
You'll see our team out and about at community events throughout the summer. Come and talk to us at:
Bay of Islands Pastoral & Industrial Show
205 Showgrounds Road, Waimate North
11 November 2023
Whangārei A&P Summer Show
Barge Showgrounds, Whangārei
2 December 2023
Kaikohe A&P Show
Kaikohe A&P Showgrounds, Corner State Highway 12 & Ngawha Springs Road, Kaikohe
20 January 2024
Paparoa A&P Show
Paparoa A&P Showgrounds, 2062 Paparoa Valley Road, Paparoa
3 February 2024
Waitangi Day
Waitangi Treaty Grounds, Bay of Islands
6 February 2024
North Hokianga (Broadwood) A&P Show
1062 Broadwood Road, Broadwood
17 February 2024
Kaitaia A&P Show
30B State Highway 1, Kaitaia
23 February 2024
Northland Field Days
33 Awakino Point East Road, Dargaville
29 February – 2 March 2024
Freshwater plan change timeline
2020-2023

Engagement with tāngata whenua, key stakeholders, and the community; development of the draft Freshwater Plan Change.
1 November 2023 - 4 March 2024

Have your say on the draft Freshwater Plan Change.
Mid 2024

Prepare proposed Freshwater Plan Change using feedback and advice.
Learn more about the draft Freshwater Plan | Whai mōhiotanga anō mō te Mahere Wai Māori hukihuki
Information for tāngata whenua | Ngā kōrero mō ngā tāngata whenua
Information for farmers and landowners | Ngā kōrero mō ngā kaipāmu me ngā kaipupuri whenua